Study in One of the Fastest Growing hubs of the Industry. The Finland Government Scholarships 2023-24 for International Students are open now. The Finnish Government Scholarships are for Bachelors, Masters, and PhD Programs. Applicants from outside the European Union are eligible to apply. This Scholarship is gifted to applicants worldwide, except EU/EEA. This is a great opportunity to Study in Finland on a Scholarship in 2023.
The Finland Scholarships are Funded by the Ministry of Education and Culture. Finland is a European Country. The Classes and the semester will start in September 2023. In this, we will tell you all about the Finland Scholarships for International students. You have to Find a course of study, University and then you can apply for Admission to the University. After getting admission you can apply for the Fully Funded Finland Scholarship in Finland which is Funded by Finland Government. The details are given below.
Details About Finland Government Scholarships 2023 for International Students
Country: Finland
Degree Level: Bachelor, Master
Financial Coverage: Funded
Eligible Countries: All Nationalities
Deadline: 18th January 2023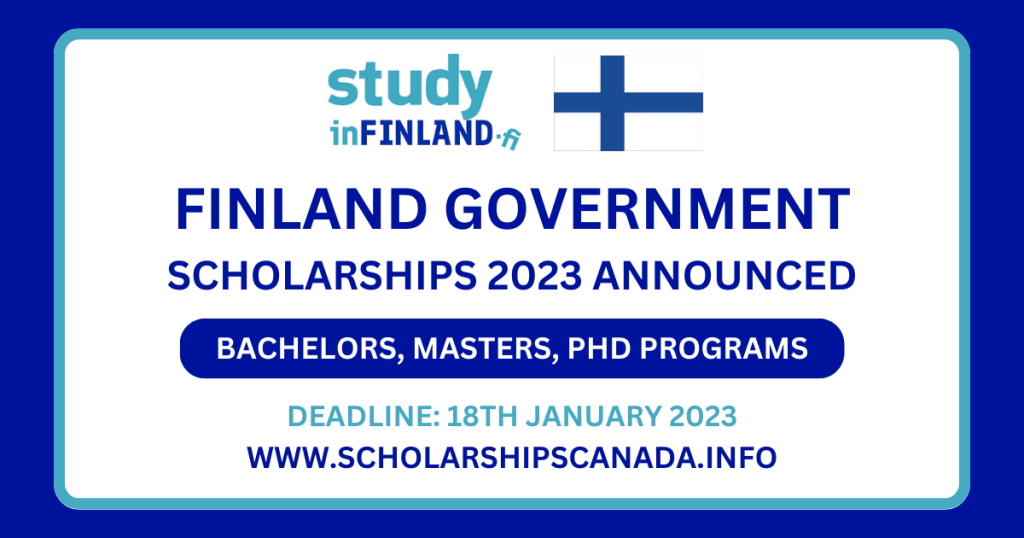 Check: Malta Work Visa Process 2023
Check: Top 10 Highest-Paying Jobs in Canada in 2023
Some Information on Finland Scholarships 2023-24
Finland country is home to Great Universities.
This is a Joint Application. Joint Application means that you can apply for a maximum of six programs in a Single application. You don't need to apply separately.
There is No Application Fee, applying is always Free. 
Many courses are in English.
500 English-taught Bachelor's and Master's programs in more than 13 universities and 22 universities of applied sciences.
Financial Coverage by Finland Government
All the universities in Finland offer various percentages of the Tuition Fee Waiver Scholarship OR the Tuition Fee + Monthly Stipend Scholarship (Fully Funded).
Read about the Funding details Here
Note: There is No Separate Application Required for the Finland Government Scholarship. By default, your application will be considered for a scholarship.
Names of Universities, Study Fields, and Programs
Look, there is a total of 22 Applied Sciences Universities Participating in this Program and 13 Universities more too. Both offer different study fields. Currently, there are 30,000 International students studying in Finland.
University of Applied Sciences:
Agriculture, Forestry, Fisheries, and Veterinary
Arts
Business, Administration, and Law
Education
Engineering, Manufacturing, and Construction
Health and Welfare
Humanities
Information and Communication Technologies (ICTS)
Services (hospitality management, logistics, security, sports studies)
Social Sciences, Journalism, and Information
Universities:
Agriculture, forestry, fisheries, and veterinary
Arts
Business, administration, and law
Education
Engineering, manufacturing, and construction
Health and welfare
Humanities
Information and Communication Technologies (ICTS)
Medicine
Natural sciences, Mathematics, Statistics
Services (Military Science, sport science)
Social sciences, journalism, and information
Eligibility Criteria
We have mentioned the links to the Eligibility Criteria, so you can check from there.
Application Process for Finland Government Scholarships 2023
You need to shortlist a Program or field that you want to study, and then you have to shortlist the University.
You do not need to contact Professors or anyone else.
A list of all Finnish Universities can be found in the following link (Visit Here)
Your First step should start from here
How to apply, application dates, eligibility, and more information are mentioned on the official website. The Link to the online application is given below.
VISIT HERE TO APPLY FOR FINLAND SCHOLARSHIPS 2023
Additional Information: If you are looking for more Scholarships 2023 in Europe Without IELTS then check:
---
Follow us, Join our Telegram Channel OR WhatsApp Groups or Follow us on Facebook for up-to-date information.